Once you have understood the basics of copywriting, the next logical question is what are the different types of copywriting? Being able to see the various types of copywriting will allow you to go into the depth of each & see which one you might enjoy more.
In this article, we will discuss 8 major types of copywriting and how you can become good at each of them.
What is direct response copywriting?
The goal of direct response copywriting is to get people to something immediately. Like the name says, "Direct", it's very direct what the goal and doesn't beat around the bush.
Direct Response Marketing usually can be measured Instantly in a short time because it people either respond to it or they don't.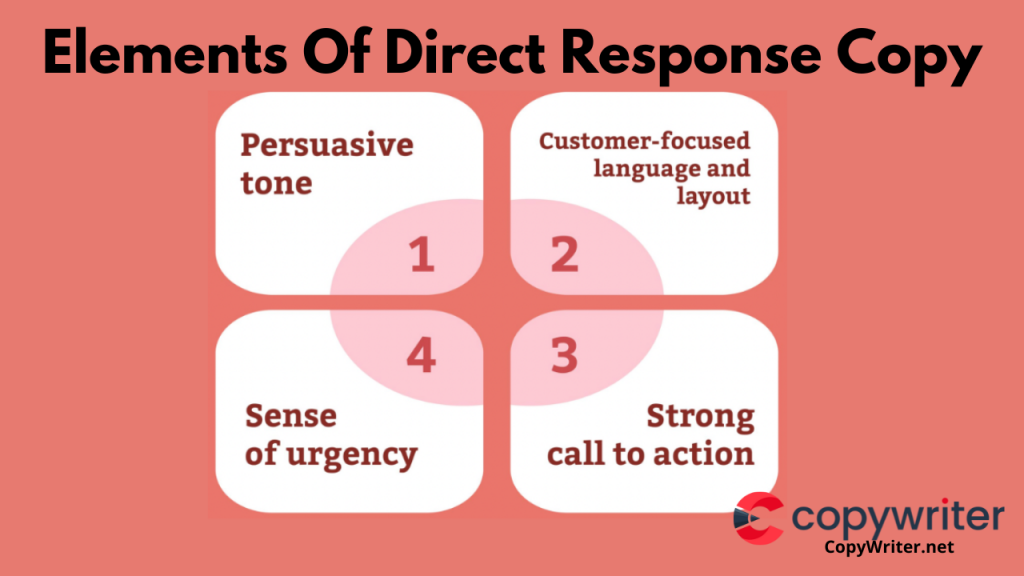 Examples of Direct Response Copywriting:
Catalogs
Fundraising, Pitchdecks
Pay Per Click Ads
Mail Postcar
2. B2C Copywriting
Business To Consumer ( B2C ) Copywriting means that you sell to the consumer who uses the product.
As a B2C Copywriter, you will have to focus on other copywriting methods such as Content Copywriting, Pay Per Click Copywriting in order for a consumer to get to buy the product.
Examples of B2C Copywriting:
Direct To Consumer ECommerce Stores ( Think Shopify )
Email Swipes: Email Promos and Nurture Emails
Product Reviews
Business To Business (B2B) copywriters sell directly to other businesses.
B2B products are products that businesses require to operate, such as MRI Machines, CRM Tools, and Heavy equipment. Most of the time, these are products that are not sold to the public.
Examples of B2B Copywriting:
Press Release
White Pages
Catalogs
Infographics
Webinars
Learn More About B2B Copywriting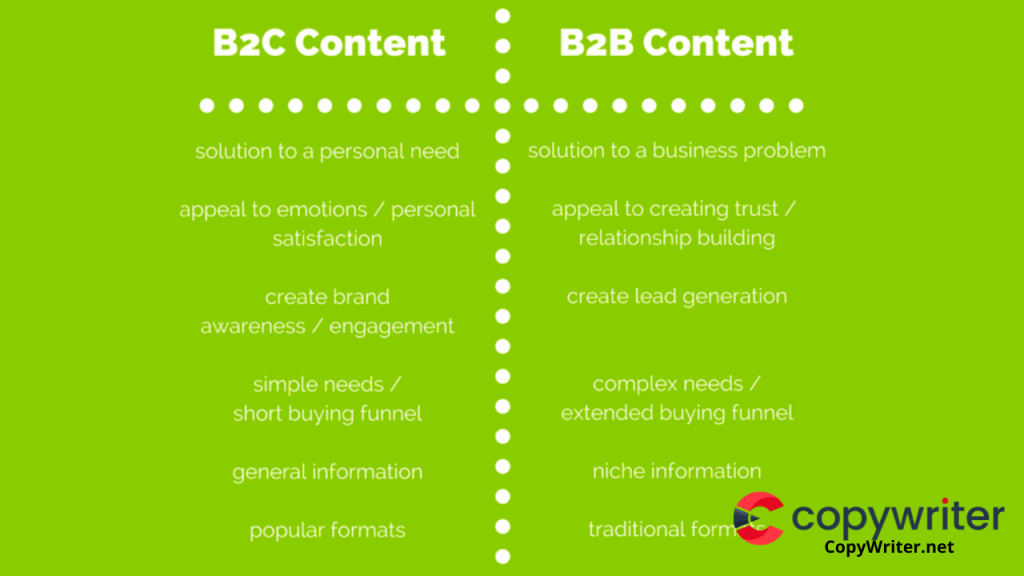 4. Content Marketing Copywriting
Content marketing copywriters are focused on raising awareness of their audience to educate them. This usually means writing about tips/tricks to help them. ( Like this website )
Examples of Content Marketing:
Blogs
Articles
How To Pages
5. Social Media Marketing
As a social media marketing copywriter, you will be responsible for managing the communication of your company via different channels. This means posting the right content to get the audience engaged or responding to other public feedback.
Social media marketing serves as people's first line of contact if there is any issue or they need support.
Some Popular Social Media And What They Are Used For:
Facebook: Facebook is used for sharing engaging content and anything that's super important. Long-form videos do well on Facebook and It's a great avenue for running PPC campaigns for B2C.
Twitter: Twitter is used for TIME Sensitive information that needs to go out, this is any interruptions or promotions.
Instagram: Mostly Images and Videos of people enjoying your products or you celebrating your customers. Instagram is used for short-form content such as reels.
TikTok: Tiktok is a short form video on social media, Mostly used for "current trend" videos. The # of followers on TikTok essentially means nothing, You should aim to teach people new facts and how-tos then get them on your website to opt-in or purchase your product.
YouTube: YouTube is long-form video content. You should focus on creating EVERGREEN Content that people can watch about the topic.
LinkedIn: To reach out to new customers, usually, B2B, and to attract the right talent to your company. You will need to brand your company as an inviting company to do business with and to work at.
Google Business: Google Business helps people find your business on google maps specifically. You will manage reviews and respond to customers who might be having issues.
6. Ad Copywriting
Ad copywriters are responsible for writing ads that get people to take a specific action. This means clicking on a button, opt-in, calling a phone number, and even picking up a product from the shelf.
Examples of Ad Copywriting:
Video Sales Letter (VSL)
Sales Pages
Opt-In Boxes/Pages
Newsletter Opt-Ins
Billboard Ads
Product Mockups
Packaging
Catch Phrases like "Just Do It"
7. Technical Copywriting
Technical copywriters need to be very good with grammar and simplifying complex topics. Most of the time, you will write white papers and product specification documents. You will also help the company remove jargon and simplify procedures.
While Technical Copywriting does not sound as sexy as other types of copywriting, it's a highly in-demand career and it does not require you to do too much thinking trying to find the "big idea".
Search Engine Optimization Copywriting involves knowing what causes search engines such as Google, Bing, and Yandex to rank the website. SEO Copywriting does not have instant ROI but it's a great organic way to bring in traffic to the company website.
To become a good SEO Copywriter, you must know how to research keywords, have knowledge about on-page SEO, and recently: Need to learn how to optimize your content for Schema and Topical SEO.
Things To Focus On As SEO Copywriter:
Writing Engaging Content
Understand What NLP (Natural Langauge Processing Is)
Topical SEO
Schematic SEO
Use Google Search Console & Google Analytics
Importance of Keywords, Tagging, Alternate Text
SEO Tools: Semrush, Aherf, RankMath
No matter which path you choose as a copywriter, it's important to know the various types of copywriting.