So, What Is AIDA Copywriting?

AIDA is a popular copywriting formula that can be used to outline your sales copy, email swipes, and even Video sales letters.
AIDA Stands for:
Attention: Get attention with a big claim
Interest: Tell them something Interesting
Desire: Make them desire whatever you are selling
Action: Tell them to take action
Let's break it down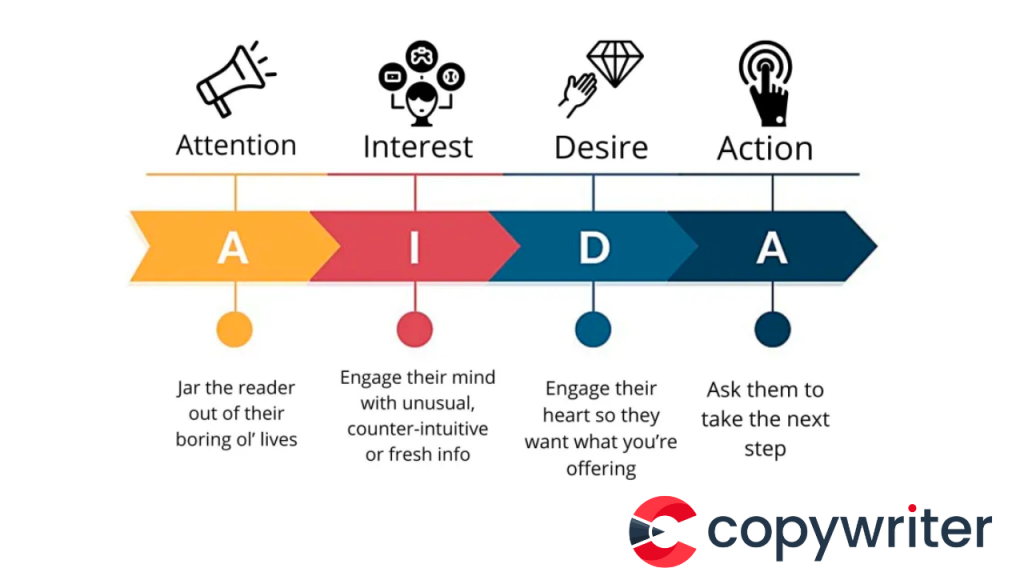 Attention
Attention is usually the first thing that you say on your sales letter, email or Ad. This should stop them whatever they were doing to give you their full attention. Idea is to use NUMBERS and a BIG claim.
Examples:
Wanna find out how to make $100K A month?
How i lost 20 Pounds in a month without a workout
How I brought a house without any down payments
Interest
Once you have gotten their Interest, Next step is to tell them something really interesting to keep that interest going. This is usually a fact that there is no denying.
Examples:
Did you know people who are under 40 and fit are likely to make more over their lifespan?
Anyone can lose weight without working out, but they have to watch their protein intake.
Our company has been around for over 100+ years and we have helped customers like you become rich!
Desire
Make them want the product or server or whatever you are selling. This is the part where you can let them imagine what they could be doing after buying your product.
Examples:
Join other 15,000 people who have been able to quit their job after buying our product.
You will be able to go to beach without hiding your body and get all the women attracted to you! You won't ever have to go home alone
Action
This is the part where you tell them WHAT DO THEY NEED TO DO right now to get access to whatever you are selling. Tell them to specifically.
Examples:
CLICK HERE to Buy This Now
Join our Newsletter Now
Call 1-800- Get RICH now to save your spot!
How To Use AIDA Copywriting?
Use AIDA copywriting formula to create outline for your sales pages or emails. Then using that outline, you can write little more. The goal is to use this formula to craft a "slippery slope" so people keep reading the content or listening or watching the content.
AIDA formula can be used on sales pages, emails, VSL, and pretty much anything.
Examples Of AIDA Copywriting

AIDA Formula Example For Selling Copywriting

Attention:
In a world where most books are freely available, this book is guaranteed to make you think differently.
Interest:
In this book, you will hear not just the click-bait headlines, but also the research that backs it up.
Desire:
What are the thought patterns of highly effective copywriters?
Action:
Get this book now and start writing marketing copy like the experts.

AIDA Formula Example For Back Pain
Attention: Are You Sick And Tired Of Your Aching Back?

Interest: Would You Like To Have A Back That Feels Better Than It Ever Has Before?

Desire: Do You Want To Get Rid Of The Discomfort, Pain And Embarrassment That You've Had To Put Up With For So Long?

Action: If You're Ready To Get Rid Of Your Aching Back And Have More Energy, More Strength, More Flexibility And More Overall Health, Then Click The Link Below To Get Your Copy Of This Special Report And Our Free Gift Now.
AIDA Copywriting Template
I created a little AIDA copywriting template that you can download and use it while writing your copy.