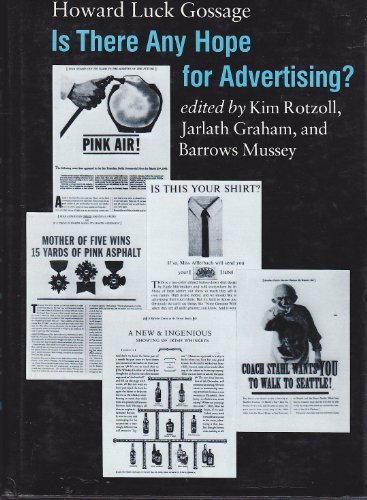 The book "Is There Any Hope for Advertising?" is a collection of essays written by Howard Gossage. The book covers a wide range of topics related to advertising, including its history, its effectiveness, and its future.
Gossage is highly critical of advertising and its impact on society. This book was published in 1987.

He argues that advertising is a form of manipulation that is used to control and influence people. He also believes that advertising is a major contributor to the decline of culture and the rise of consumerism.
Despite his negative view of advertising, Gossage does offer some hope for its future. He believes that advertising can be used to promote positive social change. He also suggests that advertising may become less important as people become more aware of its negative effects.
He argues that advertising is not just about selling whatever you have but it's also about:
Creating relationships
Connection with people
Emotional Connection
Experience for people
Creating Story for people
He also drives these points home:
Advertising is more effective when it's entertaining or informative, rather than when it's trying to hard to sell a product.

This is why editorials and entertaining ads that catch the audience by surprise work better. Creating informative content to lure customers is helpful.

The best advertising is usually the advertising that people don't even realize is advertising. People don't want to be sold, so whenever they feel like they are advertised, they will reject it.
About Howard Gossage
Howard Gossage (1918-1969) was an advertising executive and copywriter whose work was highly influential in the development of advertising in the latter half of the 20th century.
Gossage was born in 1918 in San Francisco, California. He studied at the University of California, Berkeley and the University of Chicago. He began his advertising career working on the account of the Henry J. Kaiser Company during World War II, and later worked for the William Esty advertising agency. In 1950, he established his own advertising agency, Gossage, Inc.
Gossage was known for his unconventional approach to advertising. He believed that ads should be entertaining and informative, and that they should be placed in unexpected places, such as on the sides of buses or in the programs of sporting events. He also believed that ads should be targeted at specific audiences, and that they should be created with the specific goal of provoking a reaction from the reader.
Gossage's work was highly influential in the development of advertising in the latter half of the 20th century. His approach to advertising was later adopted by many of the world's largest advertising agencies, and his work has been used as a case study in marketing and advertising textbooks.