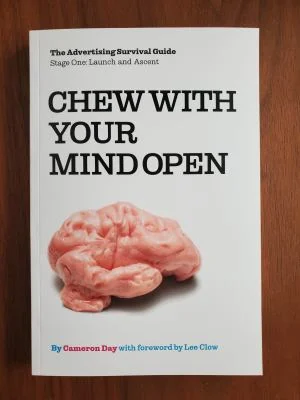 Chew with Your Mind Open is a book of humorous observations and stories about the world of advertising.
Whether you are a seasoned ad agency professional or a first time client, you will laugh out loud at the stories and anecdotes that make up this book.
Key Points From The Book
The world is filled with advertising geniuses.
Advertising agencies are one of the most feared and respected groups of professionals on the planet.
Your agency account person is your best friend.
There is a fine line between advertising and insanity.
The book is divided into three sections:
1. The Business of Advertising:

This part goes over various aspects of the advertising business, from the history of advertising to the different types of advertising agencies to the different types of media. From physical to digital mediums
2. The Creative Process:

How ideas come and how they are executed. The ideas come in random form after brainstorming for hours and mostly when you are relaxed, then the idea has to be reviewed by your team to make sure its not stupid, then the idea is checked with random sample before your firm spends money in it.
3. The Strategy of Advertising:

The most effective way to advertise your business is to use a mix of marketing channels to reach the widest audience possible. This might include online advertising, traditional print and broadcast advertising, direct mail, and public relations. It's also important to make sure your advertising is targeted to your audience. This means using the right mix of channels, messages, and visuals to appeal to your target customers.